Little Steven and the Disciples of Soul - Summer of Sorcery Live (2019, Blu-ray)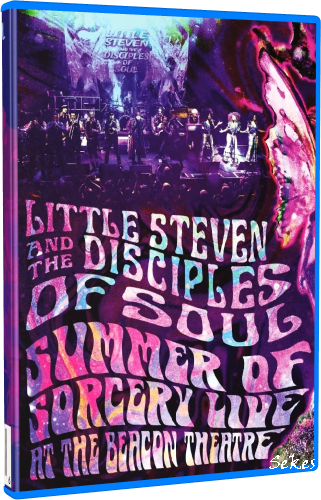 Title:
Little Steven and the Disciples of Soul - Summer of Sorcery Live! At The Beacon Theatre
Year of release:
2019
Genre:
Rock, Soul, Blues
Released:
Wicked Cool Records/Universal Music
Cast:
Bass - Jack Daley, Gesang - Stevie Van Zandt, Gitarre - Stevie Van Zandt, Marc Ribler, Keys - Andy Burton, Lowell Levinger, Schlagzeug - Rich Mercurio, Charley Drayton, Andy Burton (Akkordeon), Eddie Manion, Stan Harrison, Clark Gayton, Ravi Best, Ronn Tooley (Bläser: Saxofone, Hörner, Flöten, Oboen, Trompeten, Posaunen), Anthony Almonte, Everett Bradley (Percussion), JaQuita May, Sara Devine, Tania Jones, Jessica Wagner, Erika Jerry, Yahzarah (Background Vocals)
Tracklist
:
Professionally filmed and recorded in front of a sold-out audience at the historic Beacon Theatre in New York City on November 6, 2019, the concert album "Summer Of Sorcery Live! At The Beacon Theatre," expertly captures Little Steven, a.k.a. Rock and Roll Hall of Famer Stevie Van Zandt, bringing the house down with his band, the Disciples of Soul, as they perform their acclaimed 2019 album, Summer Of Sorcery: a 12-track record about the first rush of summer and the electric feeling of unlimited possibilities
The Blu-ray features the entire concert in HD video, with audio offered in both stereo and 5.1 surround sound to provide the best possible experience of being at the rock 'n' soul revue. The live album, mixed by Bob Clearmountain and mastered by Bob Ludwig, both longtime Van Zandt collaborators, features rousing performances of all the songs from "Summer of Sorcery" alongside tracks from Van Zandt's solo career, songs he wrote for Southside Johnny and the Asbury Jukes, and some polished covers
"Summer Of Sorcery Live! At The Beacon Theatre" is rounded out by nearly an hour of additional live music with seven previously unreleased bonus performances recorded in 2017-2019, including superstar special guests such as Australian music legends Jimmy Barnes and Peter Garrett, longtime friend and E Street Bandmate Nils Lofgren, and the legendary Nick Gravenites, who joins Van Zandt for a spectacular rendition of "Groovin' Is Easy" by Electric Flag. In addition, Peter Wolf returns for an explosive cover of The Showstoppers' hit "(Ain't Nothin' But A) Houseparty," which was recorded during the Soulfire tour but was, according to Van Zandt, "too good to leave on the shelf." The festivities come to a rousing close with a star-studded version of "Sun City" that sums up performances with Jimmy Barnes, Jake Clemons, Sam Fender, Peter Garrett, Courtney Hadwin, Garland Jeffreys and Bruce Springsteen
1. Intro: Wavy Gravy
2. Communion
3. Camouflage Of Righteousness
4. Party Mambo!
5. Love Again
6. Education
7. On Sir Frances Drake
8. I Visit The Blues
9. Gravity
10. Los Desaparecidos
11. Little Girl So Fine
12. Trapped Again
13. Love On The Wrong Side Of Town
14. A World Of Our Own
15. Suddenly You
16. Vortex
17. I Am A Patriot
18. Supperfly Terraplane
19. Bitter Fruit
20. Forever
21. Summer Of Sorcery
22. Tucson Train
23. Freeze Frame (with Peter Wolf)
24. Sun City (with Peter Wolf)
25. Soul Power Twist
26. Out Of The Darkness
Bonus Tracks:
1. Bristol Stomp
2. Clun A-Go-Go
3. Groovin' Is Easy (with Nick Gravenites)
4. (Ain't Nothin But A) Houseparty (with Peter Wolf)
5. Ride The Night Away (with Jim Barnes)
6. Moon Tears (with Nils Lofgren)
7. Sun City (with Jimmy Barnes, Peter Garrett, Sam Fender, Courtney Hadwin, Jake Clemons, Garland Jeffreys, Bruce Springsteen)
Quality:
Blu-ray
Video:
MPEG-4 AVC Video / 29400 kbps / 1080p / 23.976 fps / 16:9 / High Profile 4.1
Audio:
English / LPCM Audio / 2.0 / 48 kHz / 2304 kbps / 24-bit
Audio:
English / Dolby TrueHD Audio / 5.1 / 48 kHz / 24-bit
Audio:
English / DTS-HD Master Audio / 5.1 / 48 kHz / 24-bit
Subtitle:
English, French, Spanish, German, Portuguese, Italian
Total Size:
42.88 GB
Total Time:
02:41:48
Download Hoster: alfafile.net, rapidu.net, hitfile.net, rapidgator.net, turbobit.net
Pass: 689